Hemispheric Institute of Performance and Politics Convergence, Duke University, Durham, USA | Website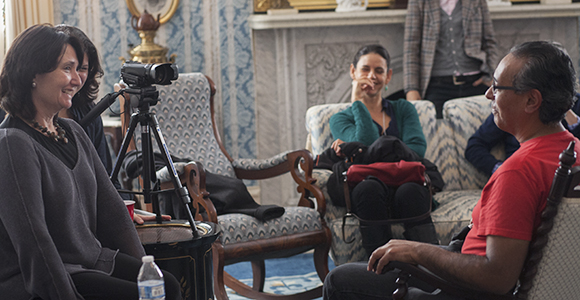 The year 2011 marked an explosion of radical mobilization, from student protests and occupations to uprisings and insurrections. These events were characterized by the embodied reclaiming of public space, demands for economic, social, and political change, and instrumentalization of technology to communicate, organize, and revolt. As these political struggles spread globally, artists, activists, and scholars have engaged and responded to these actions by generating militant research practices, radical art gestures, and networked communities.
In the spirit of the Hemispheric Institute Encuentros, Convergence 2012 intends to bring together about 100 participants to generate a space of intensive connections between scholarship, artistic expression, and politics, promoting embodied practices—performance—as a vehicle for the creation of new meaning and the transmission of cultural values, memory and identity. During the three days of Convergence 2012, we aim to explore new political potentials for emancipation, liberation, and revolution.
Invited Speakers and Artists include:
Micha Cárdenas, UNIVERSITY OF SOUTHERN CALIFORNIA
Colectivo Situaciones, BUENOS AIRES, ARGENTINA
Counter-Cartographies Collective, UNIVERSITY OF NORTH CAROLINA, CHAPEL HILL Ricardo Dominguez, UNIVERSITY OF CALIFORNIA SAN DIEGO
El Kilombo Intergaláctico, DURHAM, NORTH CAROLINA
Esther Gabara, DUKE UNIVERSITY
Macarena Gomez-Barris, UNIVERSITY OF SOUTHERN CALIFORNIA
Jack Halberstam, UNIVERSITY OF SOUTHERN CALIFORNIA
Michael Hardt, DUKE UNIVERSITY
Brian Holmes, CHICAGO, ILLINOIS
Josh Kun, UNIVERSITY OF SOUTHERN CALIFORNIA
Pedro Lasch, DUKE UNIVERSITY
Walter Mignolo, DUKE UNIVERSITY
Dannys Montes de Oca Moreda, 11TH HAVANA BIENNIAL CURATORIAL TEAM Diane Nelson, DUKE UNIVERSITY
Roya Rastegar, BRYN MAWR COLLEGE
Diana Taylor, NEW YORK UNIVERSITY
Wu Tsang, DIRECTOR, WILDNESS
Jacques Servin, THE YES MEN / NEW YORK UNIVERSITY
SpiritHouse, DURHAM, NORTH CAROLINA
ORGANIZERS
Zach Blas, DUKE UNIVERSITY
Ana Paulina Lee, UNIVERSITY OF SOUTHERN CALIFORNIA Leticia Robles-Moreno, NEW YORK UNIVERSITY
DUKE UNIVERSITY CO-ORGANIZERS
Kency Cornejo, Laura Jaramillo, Melody Jue, Camila Maroja, China Medel, Amanda Suhey, and Jasmina Tumbas